DUŽNOSNICI HRVATSKOG HRVATSKOG PULMOLOŠKOG DRUŠTVA
Predsjednik/President: Prim. dr. Neven Rakušić
Klinika za plućne bolesti "Jordanovac"
Jordanovac 104
10000 Zagreb
Tel: 385 1 23 85 150
Fax: 385 1 23 48 345
E-mail: neven.rakusic@zg.hinet.hr
Prvi dopredsjednik/First Vice-President: Prim. dr. Zlata Beg-Zec Kopani
KBC Rijeka
T. Strižića 3
51000 Rijeka
Tel: 385 51 21 86 88
Fax: 385 51 21 86 88
Drugi dopredsjednik/Second Vice-President:
Prof. dr. Fadila Pavičić
Klinika za plućne bolesti "Jordanovac"
Jordanovac 104
10000 Zagreb
Tel: 385 1 23 58 163
Fax: 385 1 23 48 345
E-mail: f_pavicic@hotmail.com

Tajnik/Secretary: Dr. Neven Miculinić
Klinika za plućne bolesti "Jordanovac"
Jordanovac 104
10000 Zagreb
Tel: 385 1 23 85 234
Fax: 385 1 23 48 345
Rizničar/Treasurer: Dr. Bojana Butorac-Petanjek
Poliklinika za bolesti dišnog sustava
Prilaz baruna Filipovića 11
10000 Zagreb
Tel: 385 1 37 76 044
Fax: 385 1 37 76 043
E-mail: polipulmo@zg.tel.hr
History
CRS is one of 103 professional societies of Croatian Medical Association (CMA).
CMA, founded on February 26, 1874, is an organisation of physicians who associate in order to promote the health protection of the citizens, professional and scientific practice, to foster medical ethics and to protect the interests of their profession.
professional and scientific improvement
advancement of medical education
fostering of medical ethics
professional advice and expertise on bills and acts concerning the organisation of health service and public health and environmental protection
co-operation with other medical and related associations in the country and abroad
Educational activities
in co-operation with Zagreb University School of Medicine and University Hospital for Lung Diseases Jordanovac

postgraduate courses and seminars
practical courses in respiratory medicine (endoscopy and biopsy techniques, bronchoalveolar lavage)
up-to-date lectures
The programme of continuing education in the Respiratory Medicine for academic year 2001/2002
Topics:

basics in bronchoscopy
bronchoalveolar lavage
tubrculosis, pneumonia and pneumonitis
interstitial granulomatous diseases
lectures, seminars, exercise training, round table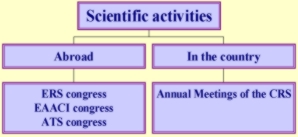 "Liječnički vjesnik" - The Journal of the Croatian Medical Association cited by: MEDLINE/Indeks Medicus, EMBASSE/Excerpta Medica
"Liječničke novine" - Medical Gazzette
"Prevencija, dijagnostika i liječenje astme" - Handbook for specialists and public healthcare workers on the strength of the GINA

CRS Members
Members of the CMA/CRS can become physicians/specialists in Respiratory Medicine, who live and work both at home and abroad and individuals from other professions with a university degree who are active in health institutions or who are medical scientists.
The membership can be regular, associated and honorary.
CRS comprises about 300 members.
Some CRS members are registered as members of the ERS. CRS member Neven Rakušić has been elected as national delegate of Croatia.